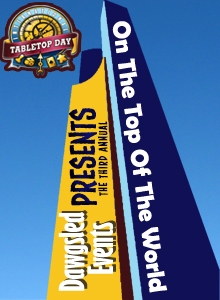 3nd Annual TableTop Day on Top of the World Benefiting Meow Cat Rescue
Columbia Tower Club
701 5th Ave 75th Floor, Seattle, WA, 98101
Saturday, April 11, 2015 11:00 am until 11:00 pm
Organized by: Dawgsled Events (Contact)
Event Description
Welcome to the ticket sales page for the third annual Table Top Day on Top of the World Benefiting Meow Cat Rescue! This is an age 21+ charity event celebrating Internet community Geek & Sundry's event International Table Top Day on April 11, 2015.
As this is a not-for-profit charity event, all proceeds above the cost of putting on the event will be donated to Meow Cat Rescue, a no-kill cat shelter in Kirkland, WA. Last year, we raised over $3000 for them.
This year, our event is broken into 2 sessions. For the main session, we are pleased to announce that there will be NO PRICE INCREASE over last year's cost! From 11:00 AM to 5:00 PM, main session attendees will have the run of the entire 76th floor (that's the top!) of the Columbia Tower. As in years past, a deli-style lunch will be provided, with food offerings for most common dietary needs. The standard presentations, drawings and appearances will occur during this time.
The evening session will run from 5:00 PM until 11:00, we will consolidate into one of the main banquet rooms. The evening session will facilitate a more intimate gaming experience, and will also feature a dinner buffet. The focus will be on gaming and gaming only--no bells and whistles to interrupt you. The night will be capped off by a giant Werewolf game for those that wish to participate.
You may purchase tickets for just the main session, just the evening session, or both. There is a considerable discount if you purchase both.
We have also commissioned Games and Gizmos to provide a pop-up game store with a large and diverse game selection. We have also arranged to include 2 $10 gaming vouchers for only an additional $5! Vouchers will also be good for a week after the event at G&G's main store in Redmond.